In case you missed it, this year, CLT's hybrid Symposium 2022 (March 7 – 9, 2022) explored how the AUC faculty and educators around the world have responded to today's challenges with innovations that create learning opportunities for the future. The theme was "Inspiration and Innovation: Today's Challenges…Tomorrow's Opportunities", and it included plenary sessions, virtual keynotes, face-to-face workshops and co-design sessions.
Plenary Session: Experiential Learning Beyond the Classroom: AUC School of Business Co-op Model
This session was led by Ahmed Abdel Meguid (associate professor of accounting and founding co-op faculty mentor) who introduced the co-op model that was launched in coordination with AUC's Career Center Office in March 2021. The co-op model offers students a six-month paid full-time work with an employer/partner covering a full semester and summer or winter. This experience is equivalent to a three-credit elective course counted towards their major requirements and is co-graded by the faculty and the employer. Abdel Meguid highlighted how the co-op model piloted at the Business School provided undergraduate students the opportunity to experience real on-the-job training while receiving constant feedback and guidance from the employer, the Business School and the Career Center. According to students, the co-op opportunity allowed them to transfer their classroom knowledge to real-life experience; they also returned to AUC with a better perspective on what they really want to do after they graduate. For employers, the co-op model allowed them to recruit future high caliber employees and enhance their brand image.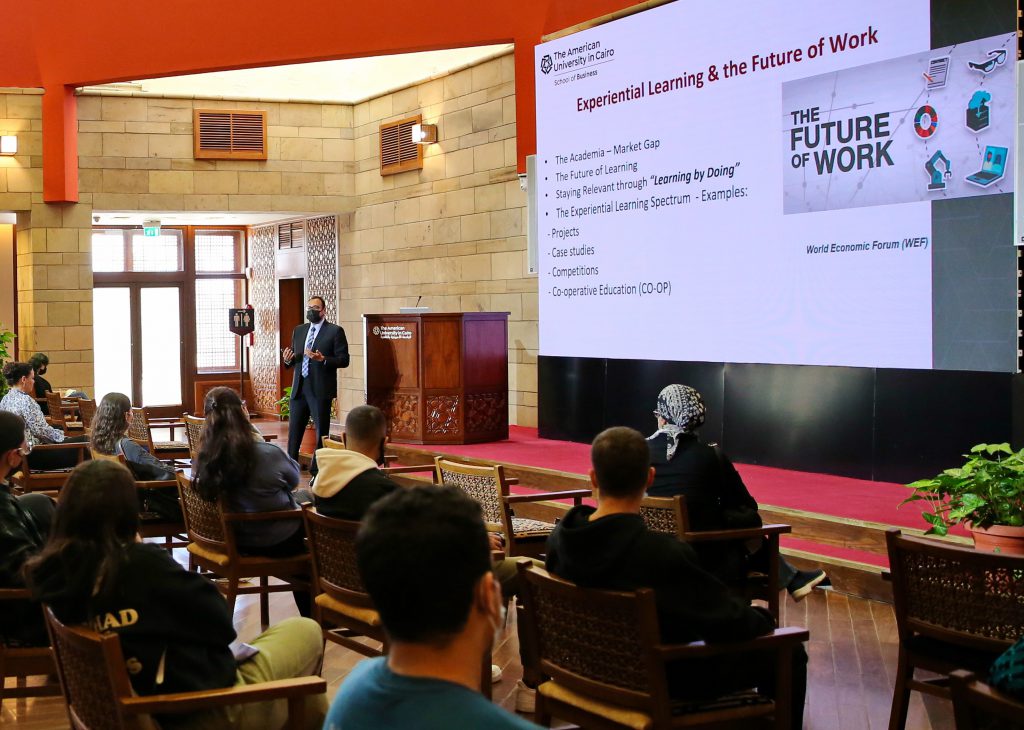 Keynote Session: Low-Tech, Low Stress, and High Impact Strategies for Bridging On-Campus and Online Experiences
This session, presented by Jenae Cohn, Director of Academic Technology at California State University, identified strategies to consider how to keep the best parts of teaching online for classes with on-campus learning experiences. The session started with defining a low-tech dual delivery teaching experience as effective, accessible, and flexible with technology that is visible and inclusive. In order to make this happen, technology constraints must be known with the instructor actively reflecting on why they are choosing this activity, where it can be done, what the tools needed for it are, whether there are alternative ways to carry out this activity, and any other question that may arise while planning it. Cohn also discussed strategies such as having an optional activity/modality for students who cannot engage with the main activity/modality, pairing students for support, and talking to students individually to gain insight into their struggles, to create a classroom that empowers students by building their confidence and lowering their stress. Finally, Cohn shared high impact approaches that create a community of autonomous learners with original ideas such as setting transparent shared learning goals and nurturing an environment that encourages feedback, reflections, and active involvement in decision making. Ultimately, the focus of the session was to create a learning experience where all students can access engaging discussions, opportunities for critical problem-solving, and space for peer community-building wherever they are.
Keynote Session: Hybrid Thinking: Creating a Future We Want
This session was presented by Arndt Pechstein, founder of the boutique consultancy phi360, chairman of the Biomimicry Academy, agile coach, and initiator of the Hybrid Thinking approach. He discussed the future skills we need to empower people to actively shape the desired future: how skills like creativity, collaboration, courage and a healthy disregard for the impossible combined with a purpose-driven mindset are the key to shaping a desirable future and thriving as individuals. Pechstein highlighted the fact that with the exponential growth of technology we are now witnessing, we need to shift the paradigm and create new societal narratives that can generate new solutions rather than staying stuck trying to improve old ones. One example he gave was how the lightbulb was a completely new solution not another improvement on candles and lanterns. Mimicking nature in using turbulence to move from scarcity to abundance, humanity will also need to learn how to use critical thinking, intuition, imagination, and collaborative thinking to find alternatives for broken and obsolete systems. For this, we need first principle thinking: Question everything from the start.
Check website for more resources here and here
Digital Literacies Toolkit Launch
The Digital Literacies Toolkit is the latest step in the Digital Literacies (DL) Initiative, first launched with an awareness session in February 2020. The CLT team who envisioned and populated the toolkit (Maha Bali, Nadine Aboulmagd, and Samah Adel) facilitated this DL Toolkit Launch Event by first introducing participants to the notion of digital literacies, and updating them on the progress of the Digital Literacies Initiative from February 2020 until March 2022. Participants were then invited to fill a brief "digital literacies insights" survey, followed by some time to explore the Digital Literacies toolkit on their own. Participants were then led through a "DL Toolkit scavenger hunt" competition, and later asked to provide feedback on the toolkit and suggest where they might contribute their own teaching activities to it.
Finally, the last hour included DL roundtables in a "shift & share" fashion (i.e. people could shift to a different "station" or roundtable every 15 minutes or so). Participants would sit with a CLT team member or faculty member who contributed to the toolkit to explore a different way of applying DL in their courses. Roundtable topics/facilitators included: Timeline (Maha Shawki, CLT), Podcasts (Nadine Aboulmagd, CLT), Infographics (Mariam Hussein, CLT), Videos (Ahmad ElZorkani, CLT), Information Literacy (Meredith Saba, LIB), e-Portfolios (Mohammed Saleh), Academic Integrity (Rania Jabr, ELI), and Social Media (Nesma Hossam, ELI). We collected feedback on the toolkit via Padlet, and this was one comment we received: "amazing work by everyone, useful tips, creative assessment ideas".
The DL Toolkit website was designed by Mohammed Saleh (CLT) with support from Heba Amer (IT Excellence Office).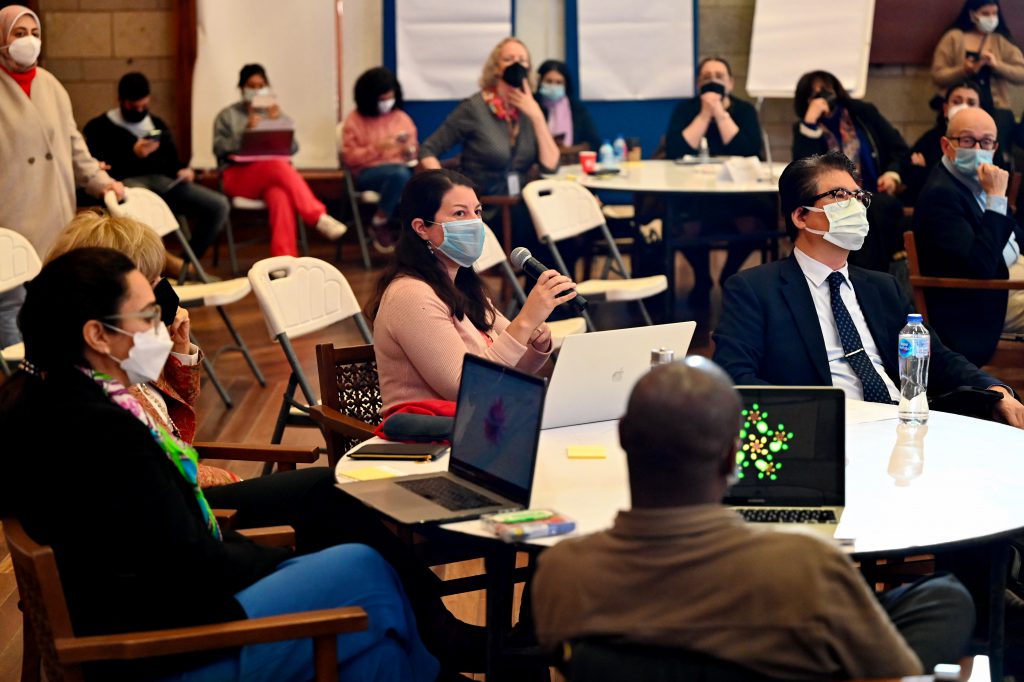 Community Roundtables
This session consisted of roundtables on various innovative learning themes with faculty from different disciplines. Each roundtable was led by one or more AUC faculty member(s) who have themselves innovated in their classes. Attendees were able to visit a table, listen to a brief presentation and have a discussion, before moving to other tables of interest every 20 minutes or so. Roundtable topics and participating faculty included:
Intermezzos by Isabel Muller (MACT). Intermezzos, as used by Isabel Muller, are quick mathematical exercises that can be interspersed within a lesson. The goal of Intermezzos is to increase interaction and engagement in class and improve students' mental health by increasing their ability to solve problems. Participants experienced some Intermezzo activities live during the session.
Virtual Exchange by Momenbellah ElHusseiny (ARCH) and Yasmine Moataz (SEA). Husseiny and Moataz talked about their experience with intercultural Virtual Exchange via the GSACS (Global Scholars Achieving Career Success) project with faculty partners from City University New York (CUNY). Moataz talked about collaborating with a class at CUNY around the theme of inequality, where students in her class and students at CUNY researched inequality in playgrounds, and in the process enhanced their own career-readiness. ElHusseiny said the project engaged students from AUC with CUNY students to investigate the urban challenges of small shops located at central business districts of Cairo and New York, focusing on inequality. Students created models and posters for the proposals to demonstrate their work.
Social Media in the Classroom by Emiko Stock (SEA) and Sarah Seif (JRMC). Stock talked about how she used Instagram in the AnthroInsta assignment, where students were encouraged to think multimodally, through all their senses, visually and not just with language, and to learn to work digitally. Students could post about their fieldwork or things they saw on the street, or to reflect on course content. Seif talked about how she used Tiktok in her classes where students created their own content, and how it was the highlight of their semester. She also talked about how professors themselves can use social media to post their own material to engage students on popular platforms.
Design Thinking by Magda Mostafa (ARCH), Tina Jaskolski (SEA) and Sophie Farag (ELI). Mostafa demonstrated how to integrate the Design Thinking (DT) approach to better engage students. She started by using Mentimeter for participants to choose the best photo they could relate to as the preferred workplace environment. She talked about how important it was for students to choose topics then unpack and cluster them. Moreover, she displayed some trend cards as a tool used in design thinking to trigger ideas as students think of different solutions. Jaskolski talked about how DT is an innovative methodology for students to address real life challenges, by doing user research before ideation, designing prototypes for real problems and then actually building their designs in a short timeframe. Farag used the DT process to help students learn language skills through project-based learning. One of the students who attended the Intensive English Program (IEP) course mentioned that she felt engaged every step of the way.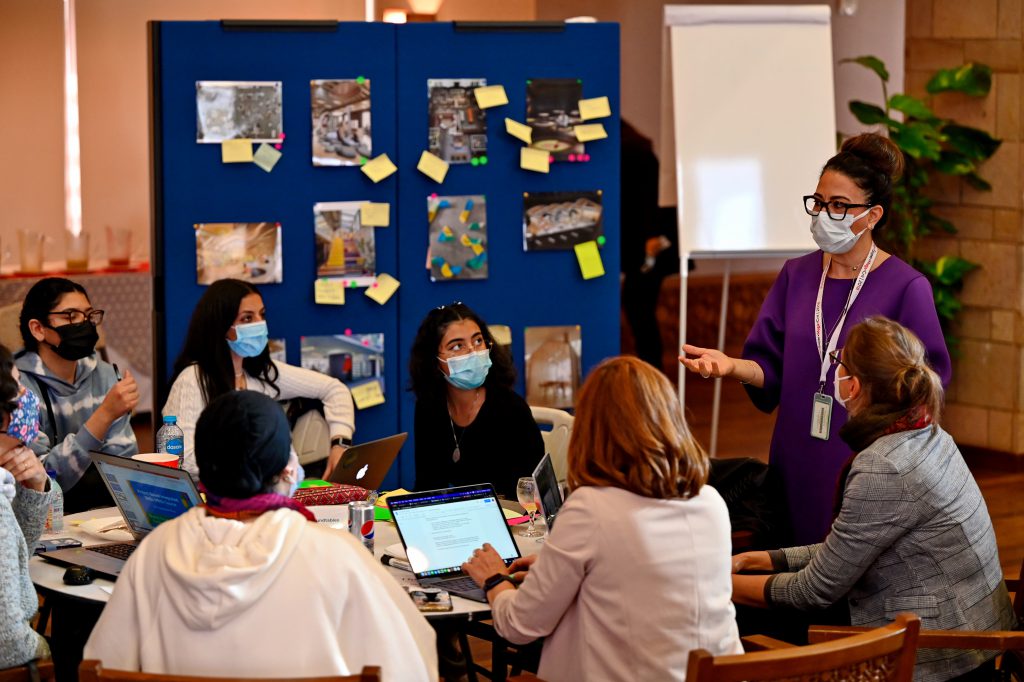 Spotlight on Active Learning Spaces Pilot
This session was concurrent with the community roundtables and followed the same format. Each roundtable was led by one or more AUC faculty member(s) from the Active Learning (AL) classrooms pilot Learning Spaces project. Each roundtable facilitator shared their experience regarding how they utilized the technology and the furniture in the active learning classrooms to optimize learning and engage students. This video was played while faculty were presenting to highlight the main AL classrooms features that they were discussing.
Andreas Kakarougkas (BIOL) talked about how he used the classroom technology set-up and configurations in different ways to enhance student interaction and learning. See photos and a fuller description in a previous New Chalk Talk.
Maya Nicolas (IGHHE) talked about the different activities that she implemented in her class using the group annotation tool and the multiple screen projection feature. She also mentioned the activities and interactions benefiting from the different seating arrangements that the flexible node chairs in these classrooms afford.
Amina ElBendary's Teaching Assistant, Jonathan Hearn (ARIC) shared the experience of the professor and students in these classrooms. He talked about some of the technical challenges they faced and also how students interact more in AL classrooms than in traditional rooms. He also discussed how these classrooms encourage professors to develop content and design activities to make the best use of the available features and technology to enhance student learning.
Spotlight on Dual Delivery – Hybrid Learning and Teaching
This session was also concurrent with the community roundtables and followed the same format to discuss faculty experiences teaching in Dual Delivery (DD) classrooms. Dual Delivery modality is when an instructor teaches two groups of students simultaneously: some are physically in the same classroom, while others join remotely via videoconferencing tools like Zoom. AUC piloted Dual Delivery in Spring 2021 and Fall 2021, and this semester a large number of classrooms are equipped to support this modality. During this session, Khalil ElKhodary (MENG) and Dina AbdelFattah (ECON) shared how they engage their students while teaching in DD mode, making sure that both in-class and remote students are learning in an equitable manner. Earlier in the semester, CLT had shared an online module introducing the technology and pedagogy of teaching in DD. It is available here: https://sites.google.com/aucegypt.edu/dualdeliverymodule/home
Academic Integrity Student-Faculty Co-design
In this "Student-Faculty Co-Design Session", CLT facilitated a conversation where faculty and students worked together to analyze and co-design approaches to address the challenge of enhancing academic integrity (AI) at AUC. Faculty from a variety of disciplines participated and invited their students: Daoud Siniora (MACT), Dina Abdel Fattah (ECON), Maya Nicolas (IGHHE), Maha Bali (CORE/CLT), Melanie Carter (RHET), Naglaa Samir (Graphic Design/ARTS), and Rania Jabr (ELI). Figure 1 highlights a sample of the key takeaways summarized by Caroline Mitry and Maha Bali (CLT) who designed the session:
Figure 1: Sample Takeaways and Recommendations based on Feedback from the Academic Integrity Faculty-Student Co-design Session
| | | |
| --- | --- | --- |
| Across Campus | Within Courses | Equipping Students |
| Offer more student-faculty co-design sessionsFacilitate interactive in-person awareness sessions with students actively contributingLeverage wellbeing center and writing center support | Encourage faculty to:Give alternative assessments (non-cheatable) Assign group work with accountability via effort/activity log or diary | Time management skillsWellbeing: address stress and high workload that can lead to plagiarismReduce grading orientationBuild trust and motivation rather than policing or punishment |
CLT collected reflections from participants at the end of the session, and one faculty member commented "The session structure is super productive. The idea that faculty and students come up with a plan together is very thoughtful" and one student said "Good to know our suggestions are given weight & importance, feel like we have a voice + listening to concerns from other departments that apply to me". The main improvement participants suggested was to dedicate more time for the session.
Charting a Future for MicroCredentials at AUC
This session was led by Paul Goldacre, Associate Director of Digital Education at CLT and Hoda Mostafa, Director of CLT. It was an interactive session to explore existing models of microcredentials at various peer universities and the possibilities and potential for future implementation at AUC. During the session, the facilitators introduced what a microcredential is: "a proof of the learning outcomes that a learner has acquired following a short learning experience. These learning outcomes have been assessed against transparent standards" (MicroHE Consortium). They highlighted the importance of microcredentials and how they promote and encourage lifelong learning and online collaboration. The session included small discussion groups where each group brainstormed some ideas related to AUC and how microcredentials need to be linked to academic as well as non-academic studies. Some of the questions that were addressed during the discussion included:
What are some of the areas of strength in your programs (at AUC) that could offer microcredentials?
What are some of the gaps we could address with microcredentials?
How can our undergraduate populations benefit from these microcredential offerings?
More details are available in these slides.